Attention
, exercise and affection will make our pets happy, we know that. But sometimes it's also fun to pamper our animal friends, and give them their own special décor and accessories at home. I'm thinking of cozy pillows and soft throws just for them,
personalized eating areas (ever heard of monogrammed feeding bowls?), and fancy baskets for their toys.
Since my family recently adopted a new, four-legged friend, I have kept my eyes open for pet-related solutions and accessories for the home. This is what I came across at

Houzz: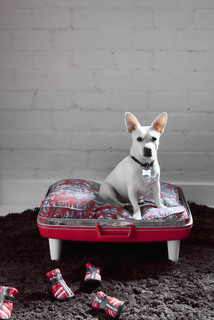 Isn't this a good use for an old suitcase?