Wow, that's neat! That was my exact reaction when I saw my client's DIY wall art. So smart, decorative and inexpensive!
An old book, a cardboard circle and hot glue were all the materials she used to create this fancy wall decoration. Here's a tutorial on how you can create your own:
https://www.youtube.com/watch?v=XNLmdnbud48
Circular shapes in general are great for breaking up the many sharp angles and corners that so often exist in a room. T
hink: walls, windows, doors and shelves - most of the time they are rectangular or square.
Introduce some round shapes and the space will immediately look more interesting and friendly.


As with so many things in design, it's all about the mix!

Close-up of my client's DIY "paper wreath". Doesn't it look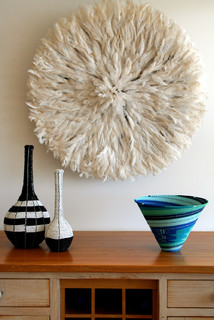 ...a fluffy Juju Hat? This African, feather headdress, also called Bamileke,
is a quite popular decoration above fireplace mantels, and is often seen
in contemporary spaces, and in very vibrant colours. See below.


Here's the inspiration photo for this post, as seen in the March issue of Canadian
Not to speak of the tiles on the fireplace surround!