When you love houses and interior design, few things are more attractive than being invited to the home of a design professional.
That was my lucky situation a few months ago. The visit to one of my Trout Lake neighbours, a retired architect, was both educational and enlightening.
But most of all, it was a delightful experience of being in a home where careful thought had gone into every design decision.
Even the surrounding trees were trimmed to display the most sculptural silhouettes!
Here are five lessons that I took home from my visit: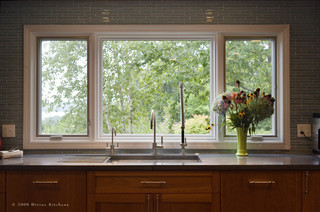 Kitchen
And Bath
Divine Kitchens LLC.
1) Let windows frame interesting views. Use them in unexpected places, like the end of a hallway, or in places where you tend to spend a lot of time, such as by the kitchen sink. For a less invasive project: create new windows between existing studs. The resulting narrow, vertical windows provide architectural interest, and bring the outside in.
Look at the outstanding corner detail
2) It's all in the details! Give extra thought to how to deal with transitions between materials, corners, joints, etc. The result will make your project stand out!

3) Use the ceiling height to its maximum. Take built-in bookcases and kitchen cupboards all the way to the ceiling. Put less-used items at the top.

4) Pay attention to lighting. A single, big light source in the middle of the room just doesn't cut it. A range of different lights gives more flexibility; think task lighting, ambiance lighting and general lighting. Use dimmers whenever possible.
5) Go big on art. Few things can so instantly change the feeling of a room, whether you go with one big piece, or several smaller pieces grouped in a gallery. See Artful displays, A flexible approach to art and Getting the hang of art for more on art in your home.
Ethos Interiors. Photo: Houzz.